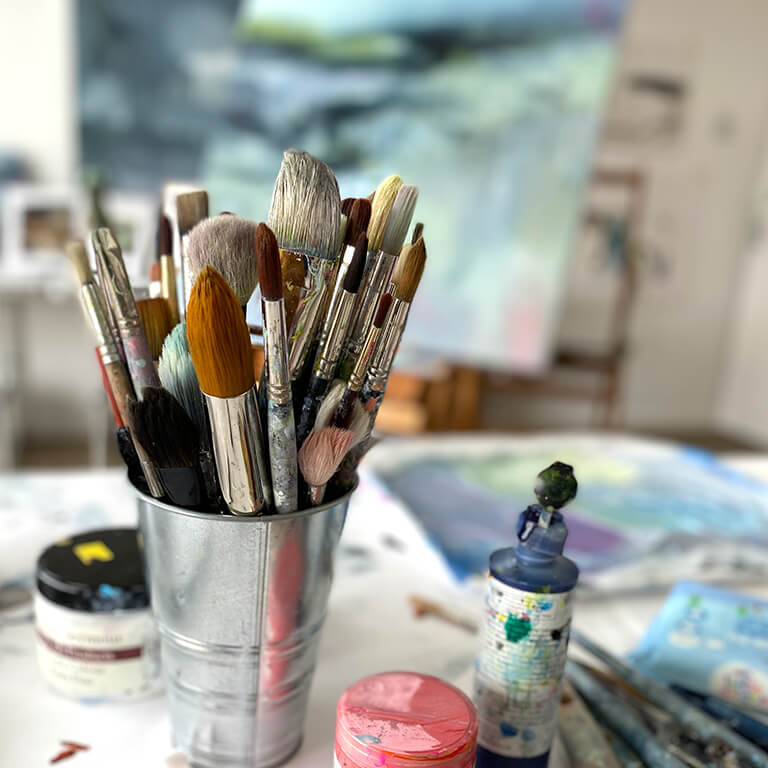 The Versatility of Acrylics
Saturday 28th – Sunday 29th October  from 10am  – 4pm each day
Storth Village Hall,   Milnthorpe,   Cumbria,   LA7 7PH
This 2 day course will be an inspiring introduction to the versatility of acrylics. Using the theme of landscape as a jumping off point we will explore ink, paint, mediums, supports, tools, mark making, layering, collage, printing and image transfers. 
This course is perfect for you if you have some experience but wish to shake things up and try out some alternative approaches to working with acrylics.
Acrylics really do offer the artist the opportunity to work in a myriad of ways. From fluid textural washes to transparent glazes to thick impasto buttery marks. The hand of the artist can be left evident or can be enigmatic, the work can be layered and nuanced or immediate and fresh. If you can understand how to exploit the potential of these inks and paints then you can be their master and guide them to convey and present your own ideas and intentions.
With an increasing selection of paints types and mediums out there it can be confusing to know where to start. This course will give you the opportunity to experiment with the various options and in doing so equip you with the knowledge to work confidently with acrylics in the future.
The workshop will be taught through structured exercises to start you off each day, with demos of specific processes, reference to the work of relevant artists, and lots of individual and group feedback as you work.
Day 1 will be full of guided exercises exploring the different techniques and options open to you. We will create a series of samples exploring these before creating an collaged abstract landscape.
Day 2 will offer you the time and space to develop your ideas. I will begin the day with a demonstration of how I start making my landscape paintings so you have an idea of my particular working process.  I will then work individually with you as you start your own piece using one or more of the techniques from Day 1.
I will be on hand to guide and inspire as you work towards the completion of at least one painting exploring different ways of responding to a landscape photo or study. The view from the hall can be stunning so there will be an option to begin by making studies en plein air.
I will supply basic drawing materials, drawing boards and a variety of papers and acrylic mediums so just bring your acrylic inks and paints, brushes, palettes and curiosity. A full list will be sent our 6 weeks before the course.
Booking Terms 2023
In order to book your place you will need to pay in full when requested on the booking page – you can use a credit or debit card. Alternatively you can pay by BACS by selecting 'Pay Locally' and I will then send you the payment details over in a separate email.

You will receive an email confirming your booking.

In the unfortunate case that a course you are booked on needs to be cancelled for any reason, I will be in touch before the course start date and refund the course fee in full.

If you find that you are unable to attend the course for any reason let me know as soon as possible :
– with 6 weeks or more notice from the course start date I will refund the course fee – less a non-refundable element to cover admin of £25.
– with less than 6 weeks' notice I will try to fill your place. If  I am able to fill your place then you'll receive a refund less the admin charge. However, if I am unable to fill your place unfortunately your payments will be forfeited . You may wish to consider taking out insurance to cover this eventuality.

You may swap your place with anyone you like but please do let me know in advance.
General Course Information
My courses start at 10am, though everyone is welcome to arrive a little early in order to set up and be ready for a 10am start. Finishing around 4pm.

Coffee and tea, biscuits and cakes are included but you do need to provide your own lunch. (There is a Booths supermarket nearby with a good selection of lunch items)

I will send out a materials list around 6 weeks before the course. Any materials that are included in the fee this will be mentioned on the course page.

Some of my courses involve time working in the local countryside. This will be made clear in the course details. Please do make sure to bring suitable clothing, footwear and maybe a small bag to carry your kit along with something to sit on!